Understanding Wind Power
Wind is an energy source that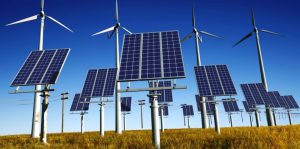 is abundant, free and clean making it a popular resource for producing electricity. A basic wind turbine consists of a rotor and an electrical generator at the top of a tower. The wind turns the blades, which spins the rotors shaft. The turning shaft connects to a generator and makes electricity. Wires then deliver the electricity to where its needed, having a dramatic affect on energy production. Wind power industry growth
The Global Wind Energy
Council (GWEC) reported the wind power industry had set new records across the world in 2015, leading the transformation of the global power system, necessary to achieve the climate objectives agreed by 186 nations in the Paris Agreement in December 2015. GWEC projects that wind power installations will nearly double by 2020, led by China, but with major contributions from both Europe and the US. Across the United States, a number of state governments strengthened their renewable portfolio standards (RPS) to bring more low-cost, clean wind energy to millions of families and businesses. Oregon started the trend in February 2016, upping its RPS to 50 percent. Rhode Island, New York, Washington, D.C. and Michigan all followed suit over the course of 2016. Massachusetts also passed an important bill that will spur offshore wind development and add other renewables to the state's energy mix.
Conventional Wind Power Challenges
Conventional
Horizontal Axis Wind Turbine (HAWT)
faces challenges that have limited its use. Traditional turbines often do not produce enough electricity to make them worth their cost since they cannot capture even one-half of the winds energy producing potential. Traditional Turbines also typically require 120-foot towers and an acre of land. Exposed blades have killed thousands of birds and are affected by UV rays and weather. The high vibrations and noise also make them complicated to site and install.
Arista Power Diffuser Augmented Wind Turbine (DAWT) technology
Arista Power Diffuser Augmented Wind Turbine (DAWT) technology has improved upon traditional technology to be the most efficient wind technology to date. DAWT technology produces more power than traditional wind turbines for a faster return on investment.
Practical for More Settings
The vibration-free turbines work well in a wider range of winds and heights, enabling them to be used in places such as rooftops and residential neighbourhoods.
Environmentally and Socially Responsible
The turbines not only provide green energy, they are also silent, safe for birds and less invasive than traditional turbines.
Government Incentives
In an effort to promote clean energy, federal, state and local lawmakers have approved a number of incentives for alternative power generation. Small wind investors can claim the full 30 percent investment tax credit for qualified small wind energy projects with state incentives can be found through the American Wind Energy Association (AWEA) website.
Is Wind Right for Me?
There are several factors to consider when deciding if a wind turbine is right for you.
Government and utility incentives can often pay for most of your turbine.
Arista Power can help you determine the payback period of a wind turbine.
Check if you will receive a credit for selling energy back to your utility company.
Check the wind on your site to see if a turbine makes economic sense.
Research wind energy zoning regulations in your area. Arista Power turbines are well within height and noise regulations. 
Check if you can connect to the electrical service power grid or will you store energy in batteries. 
You can choose a stand-alone or rooftop installation. Rooftop mounting lets you create wind tunnels.