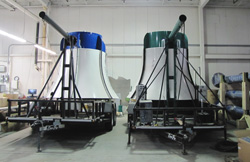 The Renewable Power Station (RPS) is comprised of five main components: solar photovoltaic (PV) energy generation, wind energy generation, energy storage, AC/DC power distribution and controls/integration. The RPS can be configured for a permanent installation and can be scaled as needed for large power consumption.
How it works
In addition to solar and wind, the RPS utilizes a third critical component – energy storage. Energy storage allows the flexibility to use the generated power when needed, rather than only when it is being created. The RPS converts solar and wind power to energy through their respective chargers and the energy is then stored in a battery bank that are designed for extended cycle life, high capacity, environmentally capable and reasonable cost. Through a power inverter, the stored energy is distributed through a circuit breaker panel and can be distributed in a variety of voltages (AC and DC) and connections.
Benefits
Arista's RPS provides renewable technology with a clear cost advantage over traditional fossil fuel powered generators. It also reduces the carbon emissions into the environment and can be applied to a variety of large-scale applications.